Tiger Stadium Seating Chart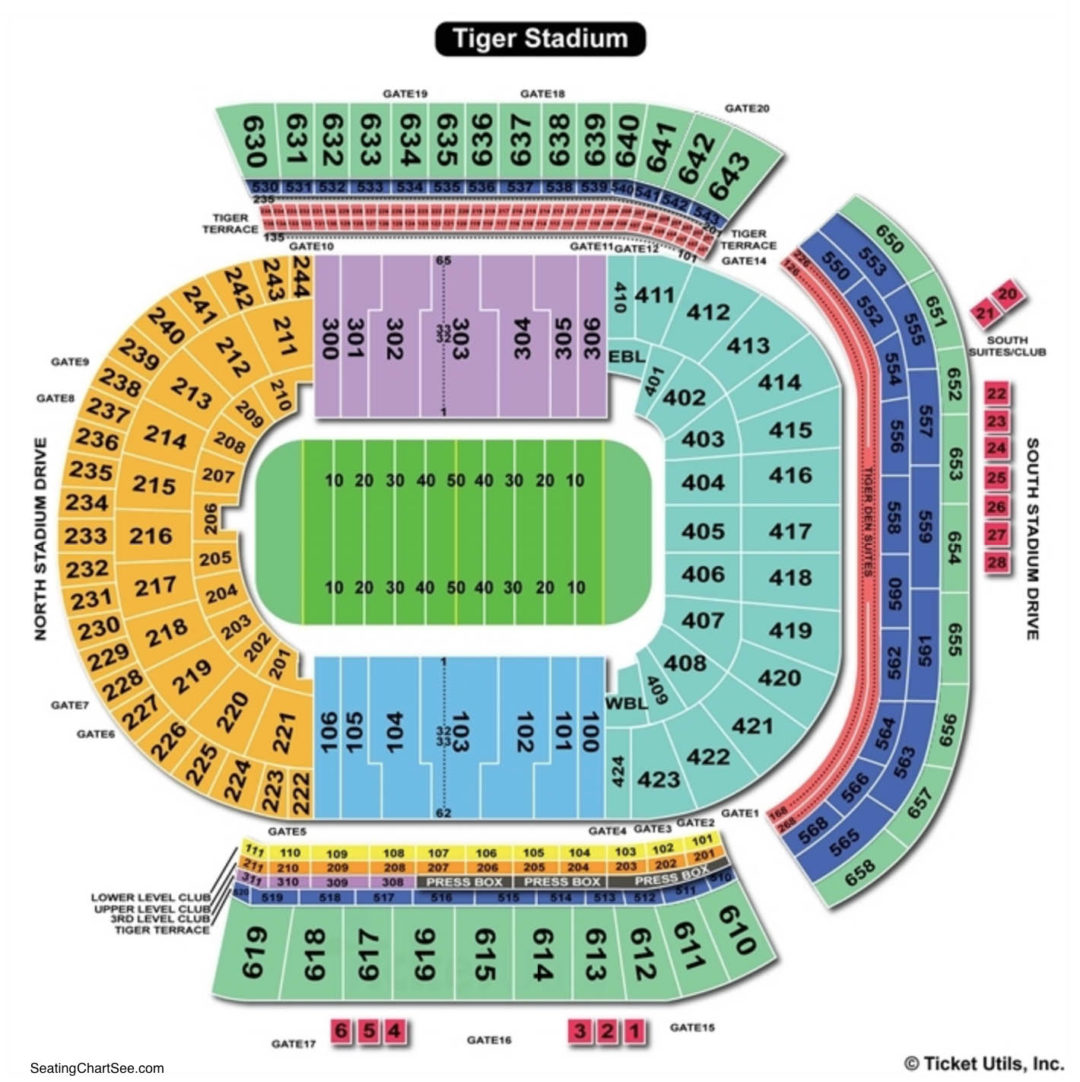 NOTE: Seating configurations can change depending on the type of event. Always check the individual event seating chart when selecting your tickets.
The following seats in the sections & rows below include chairbacks:
All seats in Club sections
Sections 530 through 543
Sections 550 through 568
All North and South Box sections
Rows A through K in sections 640 through 643
Rows 1 through 9 in sections 610 through 619
All seats in sections 510 through 520
All seats in sections 100 through 106 as well as 300 through 306
LSU Sidelines
The LSU sideline is located in front of sections 102 through 104 on the west side of the stadium.
Where else, the opponent's bench will be in front of sections 302 through 304 on the stadium's east side.
Students Section
The Tiger Stadium Student Section is located in sections 105 through 106, 202 through 205, and 218 through 236.
Do not purchase student tickets if you are not an LSU student! A valid I.D. will be required at the entrance security checkpoint.
Club Seating
Club seating at Tiger Stadium is located all throughout the stadium and gives fans a few different options that we've noted below.
Stadium Club West
The Stadium Club West is located on the west side of the stadium and is a massive area that offers both exterior seatings as well as interior lounge area seating that takes up 75,000 square feet over three levels.
Stadium Club South
The Stadium Club South is located on the stadium's south side as its name suggest.
Seats there include chairbacks, complimentary buffets of appetizers and snacks, a private club concourse that has various televisions as well as private restrooms.
What are the best seats at LSU Tiger Stadium?
The best seats are located in the sections closest to midfield such as sections 515-517 on the LSU side, or in sections 534-536 on the visitor's side. These seats would give you a raised enough view to where you can see the entire play develop, while still having a great view of the entire field. Not to mention, all seats in these sections would include chairbacks.
For visitors, look for seats in the first 10 rows of Sections 402-404.
Secure your seat today by purchasing your tickets. Visit the Tiger Stadium schedule to get started.
To view the ticket & refund policy please read the ticket information page.