Tiger Stadium | Baton Rouge, Louisiana
It's the beginning of this 2020 sports season and now is your chance to get your mits on 2020 Lsu Tigers Football Season Tickets. These season passes grant you entry to all the home games at LSU Tiger Stadium. Be the envy of all with your own season ticket to all the favorite and stunning games from your favorite team. Support the team, support the stadium and save a lot of cash in the process!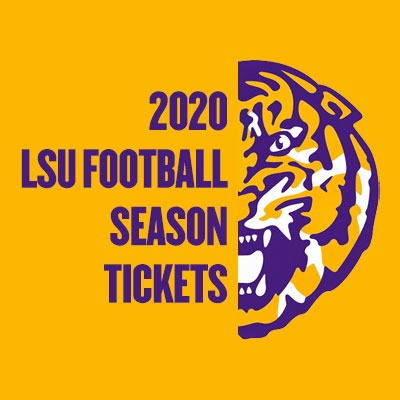 As a season ticket holder you are granted entry to all the announced home games this 2020 season at LSU Tiger Stadium. So grab yourself this 2020 season pass and come on down to LSU Tiger Stadium to cheer for your favorite team! Parking passes (if required) per game are sold separately. Many fans say purchasing their season tickets have been the best purchase of the year. There are a limited number of season passes. Get yours today.