Tiger Stadium Information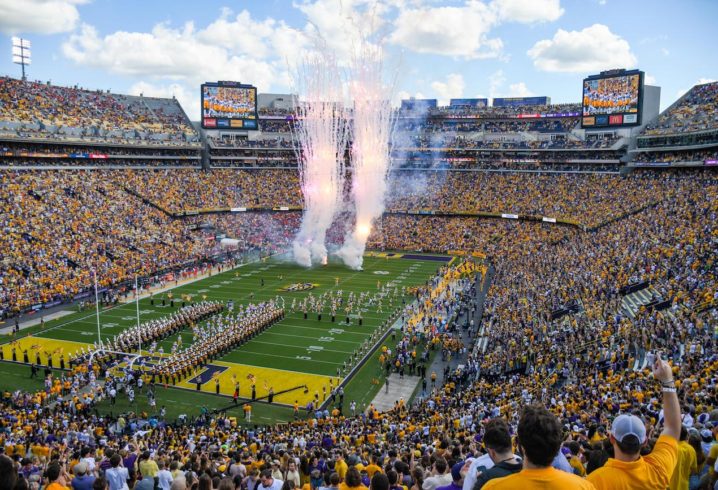 In college football, there is this ever so famous stadium that is known as Death Valley. It is the scariest outdoor stadium to play for any visiting teams to come to play in. This is Tiger Stadium. located in Louisiana State University in Baton Rouge, Rouge, Lousiana. This carefully designed and constructed venue is the home stadium of the LSU Tigers football team after 1924.
When the Tiger Stadium was opened in 1924, its seating capacity was only of 12,000. As of today, past renovations and expansions have brought the stadium's current capacity to 102,321. It is currently the third largest stadium in the Southeastern Conference(SEC), fifth largest stadium in the NCAA and the sixth largest stadium in the world. The original stadium that was built is only one part of the current stadium, which is the lower half of the current facility's grandstands on the east and west sidelines. Eight years after its opening (1931), 10,000 more seats were added to the existing grandstands.
LSU Tiger Stadium's capacity was more than doubled with 24,000 seats in the north end zone, turning the stadium into a horseshoe in 1936. Initially, money was not allocated in the state budget for the seating expansion, but money was allocated for dormitories instead. It is rumored that Governor Huey P. Long, who had always taken a personal interest in LSU. He ordered that dormitories be built in the stadium, with seating above the student living quarters. Although, in a 2015 ESPN story, Bud Johnson, at the time director of LSU's athletics museum and also a former LSU sports information director, said that the idea actually came from LSU's athletic director T. P. "Skipper" Heard. He mentioned that the governor helped in many other ways instead. These dorms were put in place and by 2015, they were no longer in use.
The stadium was upgraded multiple times throughout the years with many that helped increased seating capacities. Below is the list of games that hit the attendance record:
| | | | | |
| --- | --- | --- | --- | --- |
| Rank | Attendance | Visiting team | Date | Result |
| 1. | 102,321 | Alabama | Nov. 3, 2018 | Ala, 29-0 |
| 1. | 102,321 | Georgia | Oct. 13, 2018 | LSU, 36-16 |
| 1. | 102,321 | Louisiana Tech | Sep. 22, 2018 | LSU, 38-21 |
| 1. | 102,321 | Alabama | Nov. 5, 2016 | Ala, 10-0 |
| 1. | 102,321 | Auburn | Sep. 19, 2015 | LSU, 45-21 |
| 1. | 102,321 | Eastern Michigan | Oct. 3, 2015 | LSU, 44-22 |
| 1. | 102,321 | Florida | Oct. 17, 2015 | LSU, 35-28 |
| 1. | 102,321 | Mississippi State | Sep. 20, 2014 | MSU, 34-29 |
| 1. | 102,321 | Ole Miss | Oct. 25, 2014 | LSU, 10-7 |
| 1. | 102,321 | Alabama | Nov. 8, 2014 | Ala, 20-13 (OT) |
Additional Info
One of the unique features of Tiger Stadium is the marking of their yard lines. Unlike most football fields, Tiger Stadium marks their yard lines ending in "5". Most stadiums only have yard lines ending in "0" marked.
Also, If you venture down to Baton Rouge, be sure to check out Mike the Tiger's habitat sitting in between Tiger Stadium and the Pete Maravich Assembly Center. Their mascot is more than a mascot, it's an actual tiger.
Additionally, LSU's Tiger Stadium goal posts are different from most modern stadiums too. Its rare "H" style goal posts allow the team to run through the goal post in the north end zone when entering the field. Tiger Stadium is one of the only three Division I Football Bowl Subdivision (FBS) schools college stadiums in the nation who still uses the H style goal posts.
Another less known fact is that the crossbar from the goalposts which stood in the north end zone of Tiger Stadium from 1955 through 1984 is now mounted above the door which leads from LSU's locker room onto the playing field. The crossbar is painted with the word "WIN!". It is now a tradition and superstition for every player entering the field touch the bar on his way out the door.
Further LSU Tiger Stadium information pages:
Parking Information:
Read about available parking options on the Tiger Stadium parking information page.
Ticket Policies:
Read up on the ticket guarantee and our chosen ticket marketplace on the Tiger Stadium tickets page.
Seating Chart:
View the seating chart and find out about accessible seating on the Tiger Stadium seating chart page.